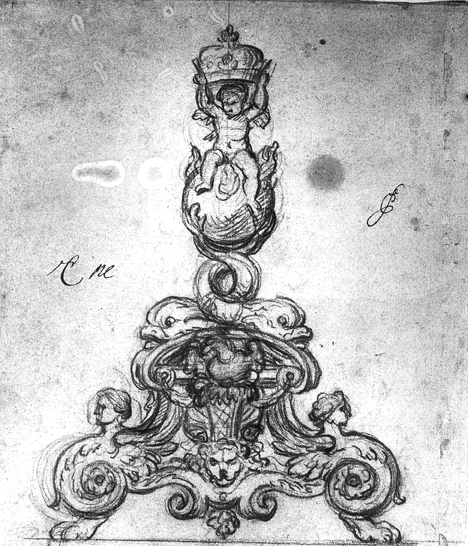 Charles Le Brun, né le 24 février 1619 à Paris où il est mort le 12 février 1690, est un peintre et décorateur français, premier peintre du roi Louis XIV, directeur de l'Académie et de la Manufacture royale. Il s'est surtout illustré dans la décoration du château de Versailles et de la galerie des Glaces.
Charles Le Brun (b. Feb. 24, 1619, Paris, France–d. Feb. 12, 1690, Paris), painter and designer who became the arbiter of artistic production in France during the last half of the 17th century. Possessing both technical facility and the capacity to organize and carry out many vast projects, Le Brun personally created or supervised the production of most of the paintings, sculptures, and decorative objects commissioned by the French government for three decades during the reign of Louis XIV. Under his direction French artists created a homogeneous style that came to be accepted throughout Europe as the paragon of academic and propagandistic art.
Le trompe l'œil de la coupole du Pavillon de l'Aurore (Parc du château de Sceaux).
Trompe l'œil dome from the « Dawn Pavilion » (Sceaux Castle's garden).
Une video d'Emilie Bouvard sur le site du CED :
You can also find there two very interesting short films in English :
Is Rodin's monumental masterpiece a failure?
Why Rodin remained obsessed by the Gates until his death?
Why did it become the model of French classicism?
Deux des nombreux dessins illustrant les conférences de Charles LeBrun à l'Académie sur l'expression des passions.
Two of the many drawings illustrating conferences given by Charles LeBrun to the Academy about the expression of passions.
Image source
Plan de la troisième chapelle de Versailles (premier étage)
Versaille's third chapel (first floor)
To know more about Le Brun…